Up & Coming Events
(5/9/15) AUTUMN OPENING TIMES
The farm shop is now open Tuesday to Sunday 10am -5pm (4pm Sun) closed Mondays.
03/10/15 Pick and Pay Apples and Pears open this weekend (limited quantities of PYO Raspberries available also)
Pick your own Coxes orange pippin, Early Windsor Apples and Conference Pears starting from 19th September (opening hours as per shop) Bring carrier bags.
PICK YOUR OWN PUMPKINS
Starting from Saturday 17th October

Apple Tasting Day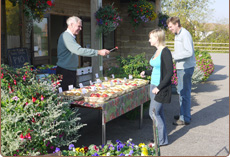 Chilton Manor Farm is a family farm and shop situated in the beautiful Kent countryside near Sittingbourne.
Specialising in selling our own seasonally grown fruit and vegetables, supplemented by other local produce. We have fruit and vegetables ready to purchase from our farm shop or you can also enjoy the fun of picking your own from a selection of crops.

Crop of the Week
Cox's, Discovery ,Estival, Worcester,Early Windsor,Laxton Fortune, Russet, Gala, Fallstaff, Spartan Bramley cooking apples, James Grieve.Quince, Conference , Comice, Concorde and Williams pears ready now.
Come and stock up on tasty Thanet potatoes,corn on the cob, Cauliflower,Salads and Tomatoes etc all fresh picked and available in our shop. Dont forget we also stock Chai stop curries, Korkers sausages, handmade cakes and pies, local honey, Duskins apple juice and much more.
03/10/15 MARJORIE SEEDLING PLUMS & GREENGAGES (last chance for plums)
Available now by the punnet or 5kg tray.Tender sweet Beetroot (bunched and cooked), fresh picked runnerbeans,Marrows, Courgettes, 25kg sacks Marfona maincrop (white) potatoes,maincrop Red potatoes bunched carrots.