Up & Coming Events
FARM SHOP and PYO update UPDATE 21/7/18
The farm shop and Pick Your Own is Open Tuesday to Sunday 10am to 5pm (4pm Sun) Closed Mondays.
PYO UPDATE 21/7/18
Strawberries now finished. Raspberry field open for picking.
PYO Blackcurrants, Red currants, Whitecurrants and Loganberries open very good pick also Blackberries.
PYO and Shop Open 10am to 5pm Tuesday to Sunday (4pm Sunday) Closed Monday for farm maintainance

Apple Tasting Day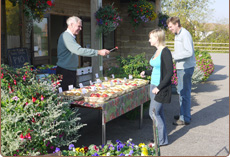 Chilton Manor Farm is a family farm and shop situated in the beautiful Kent countryside near Sittingbourne.
Specialising in selling our own seasonally grown fruit and vegetables, supplemented by other local produce. We have fruit and vegetables ready to purchase from our farm shop or you can also enjoy the fun of picking your own from a selection of crops.

Crop of the Week
Farm Shop and PYO update 21/7/18
The farm shop and PYO is open Tuesday to Sunday 10am to 5pm (4pm) Strawberries now finished. PYO Raspberries as well as Black/ Red/ Whitecurrants, Loganberries and Blackberries.
In season crops available in the farm shop this week
Our own top quality large Black sweet cherries by the punnet, chip or 5kg tray, Raspberries, Gooseberries (last variety of red and green),Black/Red/White currants, Blackberries, our first Eating Apples ,First Runner beans,Thanet New Potatoes, Salads, Full flavour local Tomatoes, Peas, Broad Beans and other veg, plus all the usual, free range eggs, our own Honey, Korkers Sausages, Kent Apple juice, Local cakes and Pies.Opal Plums starting soon check back here for updates.