Up & Coming Events
NEW FARM SHOP OPENING TIMES.
Now open 10am to 5pm Tuesday to Saturday, 10am to 4pm Sunday. Closed Mondays.
NEW THIS YEAR PYO PUMPKINS OPEN EVERY DAY (EXCEPT MONDAYS) UNTILL HALLOWEEN (opening hours as shop)
Trollys available, please bring a bag to put your pumpkin in. Also the stalks can have spines on them so please hold /pick up the pumpkins by the sides. Come along and have fun selecting what will become your scariest pumpkin!

Apple Tasting Day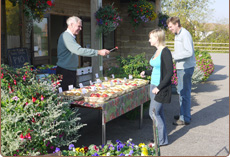 Chilton Manor Farm is a family farm and shop situated in the beautiful Kent countryside near Sittingbourne.
Specialising in selling our own seasonally grown fruit and vegetables, supplemented by other local produce. We have fruit and vegetables ready to purchase from our farm shop or you can also enjoy the fun of picking your own from a selection of crops.

Crop of the Week
Trays of Apples & Pears (various varieties) & Quince available ready picked in the shop now.(orders now being taken for trays of Braeburn apples)
Other crops in season in the shop include Cox (Orange Pippin & Queen cox),Jonagold,Spartan, Egremont Russett, Early Windsor,Gala,Golden Delicious, Fallstaff eating apples, Bramley cooking apples,Conference, Concorde and Comice pears, Cauliflower, Brussel Sprouts,Marrows, courgettes, Beetroot (bunched or cooked) & our own fresh Garlic
Butternut Squashes (only 65p each) and sacks of red or white potatoes in the shop now.
We also have our usual selection of homemade cakes, pies, apple juice, Korkers sausages,jams as well as honey from our own hives.