Up & Coming Events
FARM SHOP UPDATE 07/10/2020
The Farm Shop is open for the season. Opening times are Tuesday to Sunday 10am to 5pm (4pm Sunday) and closed Monday's for farm maintainance. We have made provision for social distancing and minimising the risk to both customers and staff by moving the shop outside. Contactless debit card machines are also available. Hope to see you soon.
PICK YOUR OWN UPDATE 07/10/2020 PYO PUMPKINS
Next crop to pick will be PYO Pumpkins starting on Saturday 17th 10am to 4.30pm and Sunday 18th October 10am to 4pm. Then open every day from Sat 24th (including Monday 26th) untill 31st October (or we sell out). No need to book, just come along in groups of no more than 6 people. You may be asked to wait if the field is particularly busy to maintain a safe distance for all customers. There will be Apples and pears also available to pick. Hope to see you soon!

Apple Tasting Day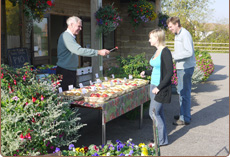 Chilton Manor Farm is a family farm and shop situated in the beautiful Kent countryside near Sittingbourne.
Specialising in selling our own seasonally grown fruit and vegetables, supplemented by other local produce. We have fruit and vegetables ready to purchase from our farm shop or you can also enjoy the fun of picking your own from a selection of crops.

Crop of the Week
Estival, Laxton Fortune, Spartan, Worcester, Falstaff, Early Windsor, Cox, Russet,Gala, Golden Delicious and Jonogold eating Apples, our new season Bramley Cooking Apples,James Grieve eating/ cooking apples, Crunchy Conference and Concorde pears, Comice pears and Quince in the farm shop now.
Freshly picked in the Farm shop only. We are now taking orders for our Braeburn apples for collection at the end of October/ first week November. Please pop in to place your order.
5kg trays of any of the above single variety apples or pears available @£7.50 box.
Dont forget we also have Marfona white and Desiree red maincrop potatoes, Vegetables, salads plus lots more- Duskins Apple Juice, Korkers Sausages, Local Pies, Cakes, Taywell Ice Cream and Jams plus local Honey