Up & Coming Events
FARM SHOP Opening Times
The Farm Shop Open Tuesday to Sunday 10am to 4.30pm (Thursdays and Sunday 10am to 4pm.) Closed Monday's.
Pick and Pay update (12/10/2021) PYO Apples and Pears open each day ( except Mondays)
(12/10/21) Pick and Pay Apple and Pear field open daily ( except Monday's) with a great pick.
PYO PUMPKINS Open from 23rd October 10am
The next crop available to pick will be Pumpkins open every day from Sat 23rd October including Monday 25th untill 31st (or we sell out.) No need to book just come along.

Apple Tasting Day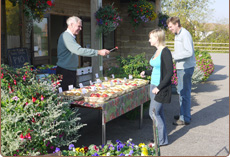 Chilton Manor Farm is a family farm and shop situated in the beautiful Kent countryside near Sittingbourne.
Specialising in selling our own seasonally grown fruit and vegetables, supplemented by other local produce. We have fruit and vegetables ready to purchase from our farm shop or you can also enjoy the fun of picking your own from a selection of crops.

Crop of the Week
The Farm Shop is open for Tuesday to Sunday 10am to 4.30pm (4pm Thursday's and Sunday) Closed Mondays.
In the shop this week our own fresh picked Spartan, Cox, Russet, Gala, Worcester, Windsor, Golden Delicious, Fallstaff, Estival, Laxton fortune and James Grieve eating apples and new season Bramley cooking apples, Quince, Conference, Comice and Concorde pears, Sacks of Thanet Red or white Potatoes,Sweetcorn, Salads, Vegetables plus much more.....
(12/10/21) Pick and Pay apples and pears open. Pumpkins available to pick every day from Sat 23rd October 10am. No need to book just come along.
The farm shop is well stocked with our own fresh picked fruit, local vegetables, potatoes, salads as well as all the other things you might need for the coming week including Korkers sausages, Duskin apple juice, Homemade cakes, pies and local jam.