Up & Coming Events
FARM SHOP UPDATE 10/10/18
The farm shop is Open Tuesday to Sunday 10am to 5pm (4pm Sun) Closed Mondays. In season fruit available this week in the shop our own Cox (Queen cox and Cox's Orange Pippin), Windsor, Spartan, jonagold, Estival, Worcester, Russet, Gala, Fallstaff, Golden Delicious eating apples,Conference, Comice and Concorde Pears. Quince
PYO UPDATE 10/10/18
PYO Apples and Pears and Quince . Open Daily (except Mondays)
PYO PUMPKINS UPDATE 10/10/18
The PYO Pumpkin field will open on Sat 13th and Sun 14th October 10am to 5pm, (4pm Sun) Then Every day from Sat 20th October (except Mondays) untill we sell out ! (Opening hours 10am to 5pm (4pm Sundays) ) We will also have a catering van this weekend and next weekend serving teas , coffee etc and hot snacks.

Apple Tasting Day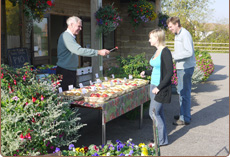 Chilton Manor Farm is a family farm and shop situated in the beautiful Kent countryside near Sittingbourne.
Specialising in selling our own seasonally grown fruit and vegetables, supplemented by other local produce. We have fruit and vegetables ready to purchase from our farm shop or you can also enjoy the fun of picking your own from a selection of crops.

Crop of the Week
Farm Shop and PYO update 10/10/18
The farm shop is open Tuesday to Sunday 10am to 5pm (4pm) PYO Apples and Pears and Quince open daily 10am (closed Mondays) and PYO Pumpkins starting w/e 13/14th October,Then again every day (except Mondays) from 20th October untill we sell out.
In season crops available in the farm shop this week
Our own Cox, Spartan, Fallstaff, Windsor, Jonagold, Russet, Gala, Worcester, Golden Delicious and Estival Eating Apples, new season Bramley & James Grieve cooking apples, Conference, Comice, Concorde Pears, Quinces. Thanet Marfona white and Desiree Red Potatoes, Salads, Full flavour local Tomatoes, Runner beans and other veg, plus all the usual, free range eggs, our own Honey, Korkers Sausages, Duskins Apple juice, Local cakes and Pies.